REASONS THAT WILL MAKE YOU GO COCO LOCO!
If you're a beauty junkie, for sure, you already know that there's more to coconuts than just coconut oil. From moisturizing to teeth whitening, coco-based or -infused beauty products have become some of the most lauded in beauty. We've gathered some of the best reasons to fill your vanity table with coco goodness!
Moisturising with Coconut oil
When it comes to keeping our complexion smooth, supple and hydrated, most of us turn to all-natural virgin coconut oil over shop-bought moisturizers, study by researchers found that coconut oil boosts the moisture and lipid content in the skin. If you're susceptible to dry skin, try applying coconut oil to the affected areas.
Human+Kind aimed to be distinct, straight-to-the-point, honest, and caring. We understand, with the increasing rate of cancer and skin problems, the demand for 'healthy' products is at its highest and with the right foods and products, you can achieve healthy skin and also healthy hair and nails too.
Our new Shower Mousse contains coconut oil, extracted from the fresh fruit of the coconut palm which is high in protective antioxidants and antibacterial fatty acids. Infused with other ingredients that complement well with coconut oil to make this product smell fresh, feel cool, non-sticky and pleasant to use daily.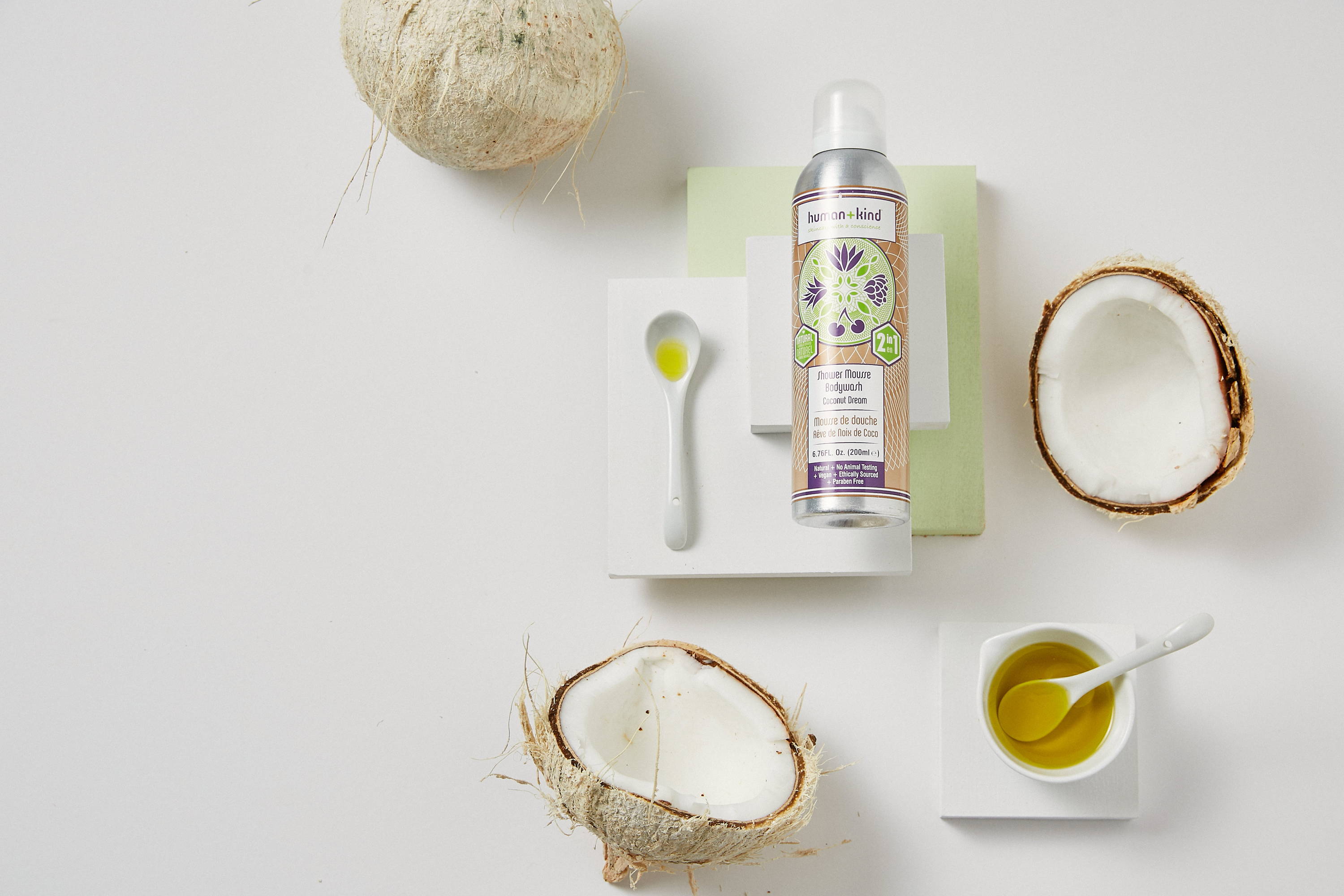 Coconut oil as a lip balm
Prone to chapped lips? Finding the perfect nourishing balm can be a bit of an effort?
The ultra-moisturizing coconut oil can be used as a lip balm and could very well be your ultimate lip saviour, especially if you're sensitive to fragrance or chemical dyes.
Using Coconut as cuticle oil
Beauty therapists in the know are using coconut oil instead of the usual cuticle oil and for very good reason. It works well to soften cuticles, moisturise hands and prevent hangnails, says nailcare experts.
Coconut oil hair conditioner
Hankering after luscious, healthy-looking locks?
Coconut oil is a tried-and-tested deep hair conditioner. If you check the ingredients label on your favourite shop-bought hair care products, coconut oil is likely to be high up on the list. Due to its unique composition, coconut oil gets right into the follicle, offers much-needed moisture and tames frizzy tresses, frazzled heat-damaged hair.
Our 2 IN 1 Shampoo + Body wash contains Coco Glucoside, a very gentle ingredient and naturally occurring that is derived from coconut oil and fruit sugar, alongside with our favorite Aloe vera, Marshmallow extract ( yes! Marshmallow) and Marigold oil.
Coconut oil is an excellent shaving cream substitute in lubricating razor blades with ease, As long as you apply the oil liberally, the razor should glide over your skin, moisturising all the while. A lot of commercial shaving creams contain ingredients that may irritate sensitive skin such as harsh fragrance, so opting for coconut oil instead may be a wise move if you have a reactive complexion.